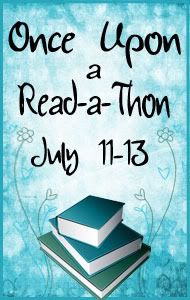 Hey guys! I will be participating in Once Upon a Read-a-thon starting at midnight on Monday. This read-a-thon is being hosted by Reading Angel, Candace's Book Blog, and Pure Imagination. There will be loads of reading, fun challenges, and tons of prize giveaways! If you think this sounds like fun, check out one of their blogs and sign up to participate.
I participated in a read-a-thon last month and didn't come anywhere close to meeting my goals. I hope that I will do better this time. I'm very excited to read some of the books I picked up at ALA! :D I'm hoping to read 4 or 5 books. I won't be able to read constantly, because I work all day on Monday and Wednesday :(
Books I (Hope) to Read
1. How to Save a Life - Sara Zarr
2. Invincible Summer - Hannah Moscowitz
3. The Name of the Star - Maureen Johnson
4. Bras and Broomsticks - Sarah Mlynowski
5. Any of you have any other suggestion?
I'll most likely be posting all updates & challenges in this one post. Stay tuned :)