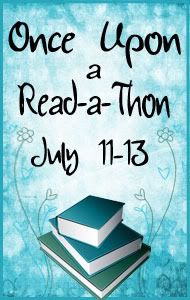 Hey guys! Day one of the readathon is coming to a close, and while I did not get a TON of reading done, I'm still pleased with what I did accomplish...considering I worked for 9 hours today. I'll be off of work tomorrow and reading like crazy.
Books Read: (1) Invincible Summer by Hannah Moscowitz (WAY more depressing than I expected it to be)
Pages Read: 320
Currently Reading: Bras and Broomsticks by Sarah Mlynowski ( It's adorable so far! I needed a lighter read after the first one.)
Her challenge is on....mythology!

Mini Challenge Question 1:
What is your favorite type of myth (Greek, Roman, Egyptian etc)?
I suppose I'll go with Greek, as that is the only mythology I've really studied. I remember doing a big presentation on Aphrodite, goddess of love , when I was in the 9th grade.

Mini Challenge Question 2:
What is your favorite book with some type of mythology in it?
The only books with mythology that I've read so far are the Percy Jackson books. I'm looking forward to reading Die for Me and Wildfire. I also have The Goddess Test sitting on my bookshelf, just waiting to be read :)
That's it for today. I'm going to get a good night of rest and start reading around 9 in the morning. Goodnight. I hope all of you are accomplishing your readathon goals. Goodnight :)